Szkoła Misyjna im. Pawła Apostoła
E-Mail: biuro@szkola-misyjna.org
You can support
the Mission School by sending
your contributions to:
Greetings in Jesus Christ name,

I believe that God wishes to receive all the glory, everywhere, from every place on the earth - "from every tribe and language and people and nation".

A dream - maybe it is only a dream. But I would like to dream big with God! I believe in a great God who works miracles. I believe in a God who can and wants to do great things (which we have never dreamed of) in our nation, and bless other nations through our nation.

As Christians working within the Mission School, we want to contribute to the fulfillment of a vision of our nation experiencing spiritual awakening and becoming a nation which blesses other nations. And all the glory goes to our great God!

We have especially determined to go to the nations which don't know Christ, after the example of Apostle Paul: "to preach the Gospel, not where Christ was named, lest I should not build on another man's foundation". We invite you to partnership with us in preaching the Gospel.

I hope that this page will be a good introduction of our plans and activities. In the future there will be more and more material, various information, and reports from our activities.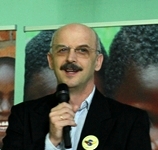 IdĽcie tedy i czyńcie uczniami wszystkie narody...
im. Pawła Apostoła
Robert Boryczka
- dean of Mission School
Cru
PO Box 628222
Orlando, FL 32862

For the ministry of:
Mission School - Poland,
Account # 2791296

Szkoła Misyjna